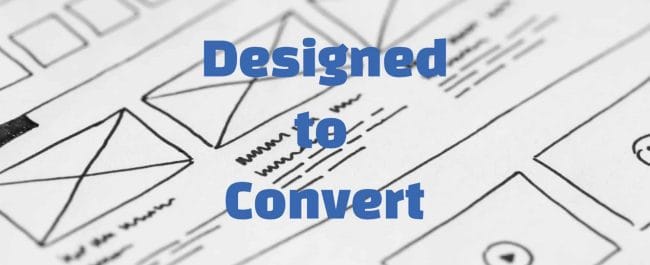 Web Design Hacks That Boost Website Conversions
Your business's website needs to generate conversions to be successful.
For some businesses, 'conversions' are email submissions. For others, a conversion is a sale or quote request. No matter what type of conversions your business is looking for, however, there are certain web design hacks you can use to boost your conversion rate.
Today, we're highlighting some of the best web design hacks top-converting websites are using to get ahead.
Use Negative Space More Effectively
One of the telltale signs of a rookie web design team is that they try to cram information into every square inch of space. Good websites use negative space to their advantage. Negative space can draw the eyes of users just as effectively as a flashy image or infographic.
If your website is packed with information, then it can quickly become overwhelming for users. Start using the white space and blank space on your website more effectively. You may be surprised by how much it increases conversions.
Tips for using white space effectively include:
Creating bullet lists to break up paragraphs
Adding calls to actions
Reducing image size
Editing content to reduce wordiness
Add More Information to Your Front Page
Don't assume your website visitors are looking at anything beyond your main page.
Many businesses overestimate how interesting they are to the average user. The average user will arrive at your website, scroll to the bottom of your homepage, then click the back button.
With that in mind, many businesses can benefit by adding all relevant information to the front page of the website. Make sure your front page has basic information about your services, your process, hours, locations served, and any other pertinent details.
If customers want more information about a specific topic – like your unique process – they can click to learn more.
The information on your front page should entice customers to learn more. Don't make customers work for it.
Invest in Better Web Design and Avoid Free Templates
If you are a professional business, then you should not be using free web design templates you found online. There are several reasons to avoid using free templates, including:
It exposes your website to security flaws and other potential technical issues
It makes your website look identical to your competitors' websites, confusing customers
Free templates aren't customized to the demographics or needs of your userbase, worsening conversion rates
Free templates can make even a multi-million dollar business look like an amateur operation
Not all free templates are bad. However, if you're serious about online conversions, then investing in good web design is crucial. Hire professional web developers and watch conversion rates rise.
Add Animated Calls to Action
A good call to action (CTA) is crucial.
Recent research suggests that animated CTAs are more effective than static CTAs. User Testing, for example, found that adding a subtle movement to your call to action every 10 seconds or so can drastically increase conversion rates.
An animated CTA button draws the eyes of customers away from whatever they're reading – but only for a moment. By animating the button to flash, buzz, or do something every 10 seconds, you're reminding the user that the CTA is there without being overly distracting.
Sometimes, a text-only CTA button works fine. In many cases, however, visitors are more enticed to click on a CTA when it's in the form of a video or image. The best CTAs combine salesy text with effective graphics to convince users to click and follow through with a conversion.
Invest in Better Photography and Ditch Generic Images
Up above, we mentioned that free website templates can cause conversion rates to plummet. Stock images and generic photography can have a similar effect on your website.
Let's say your company is based in San Francisco. You decide to post a stock image of the Golden Gate Bridge to show everyone that you serve San Francisco. In reality, most people – especially people from the Bay Area – have seen the Golden Gate Bridge from the same photography spots thousands of times. Their brains whiz right past images like that.
Invest in high-quality photography and give your website a more personal touch. Hire a photographer to take photos of your company's employees in action.
Get photographs that make your company stand out from the competition. Avoid photographs that make your company look like every other provider in your niche.
Optimize Conversions for Mobile Devices
Above all, this is one of the most important tips for increasing website conversions – particularly in 2019. Today, there's no excuse for not having a website optimized for mobile conversions. Approximately 60% of website visitors are visiting your website from a mobile device. Give mobile visitors a way to convert – even something as simple as an email submission form that pops up can boost conversion rates.
If your website isn't optimized for mobile conversions, then 60% of website visitors are leaving your site without contributing anything of value.
We Can Optimize Your Online Conversion Rate
No two websites are alike. Strategies that boost conversions on one website might not work on another website.
That's why it's important to hire a digital marketing team skilled at conversion rate optimization. At Renew Marketing, we have a proven track record of boosting conversions for our clients. Contact us today to take the first step towards taking your business to the next level online.