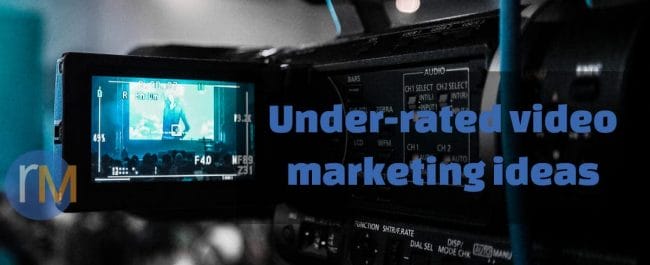 More Than Just Ads: 6 Underrated Ways your business Can Use Video Marketing
It's no secret that video marketing has exploded in recent years. Image-heavy platforms like Instagram and Facebook are checked by billions of people every day.
You can read countless guides explaining how to use video advertising to market your business online. However, video marketing is about more than just clever commercials, 15-second digital ads, and other video advertisements.
Underrated Video Marketing Ideas
Today, we're highlighting some of the underrated video marketing ideas – aside from ads – to help your business use video marketing effectively.
To Introduce Yourself and Your Products
There's a difference between an introductory video and a commercial video. Sure, some businesses blur the line. However, a good introductory video tells customers your story without shoving your products in their faces.
Does your company have a family history dating back four generations? Does your product or service fill a unique role in your niche? Did your company's founders launch the company from a college dorm room?
Use an entertaining video to tell customers about yourself and your history. Check out this introductory video from PadMapper, for example. It introduces the website's core service (apartment hunting) and explains how PadMapper solves crucial problems:
Dollar Shave Club also launched one of the most effective video marketing campaigns of all time when it released a series of videos introducing the company – like this one. The videos focused more on the company's story than on specific products and services. The videos were a smash hit – and Dollar Shave Club was just sold for $1 billion.
To Tell a Compelling Story
Video storytelling is becoming increasingly popular among small businesses and large corporations. Customers have become numb to flashy video advertisements, so companies have resorted to telling more thought-provoking stories through videos.
Think of Canadian airline WestJet with its viral Christmas hit a few years ago. The video doesn't talk about WestJet's low fares or friendly service; instead, it tells a story about WestJet employees going the extra mile to make families happy around the holidays.
You don't have to construct a scheme as elaborate as WestJet's Christmas story. Instead, think of how your products, services, or company impacts customers in a positive way. Do your products or services improve someone's life? Do your products or company initiatives make the community a better place? Can the result of using your products or services be to brighten someone's day or save someone time or money?
Apple is a master of video storytelling. The tech giant frequently uses clever videos to highlight new Apple features. Check out this video Apple released highlighting its new Group FaceTime feature on iPhones, for example. In a one-minute video, we get a clear, entertaining explanation of how Group FaceTime works – and how it brought a group of Elvis impersonators together in a unique way.
To Share Customer Experiences, Reviews, and Testimonials
Can you find customers willing to share their experience with your product or service? If so, then their testimonials can make for highly effective video marketing.
A good customer testimonial can convert more customers than a good commercial advertisement. Customers are hearing about your product from a third party – not from you. A good testimonial is honest and believable, with the customer transparently explaining her experience with your product or service.
Video is the perfect medium through which to share a customer testimonial. How many times have you glazed past testimonials like this on a website:
"The XYZ Corp. team did a great job on my project." – Tom S.
It's easy to breeze past words like that on a website. You don't even know if "Tom S." exists. When that same customer is speaking on camera to an audience, however, the testimonial becomes much more authentic.
To Teach Customers Something Valuable
Do you have a way to save customers time or money? Whatever your niche may be, we're confident you can teach customers something about your niche. Maybe you're a landscaping company ready to share some gardening tips for summer. Maybe you're a web designer teaching somebody how to optimize their website for mobile devices.
Video marketing can help you give real value to your customers. A good instructional video can:
Teach customers how to use your product more effectively
Show customers a new way to use your product – say, to solve a problem they didn't know could be solved with your product
Tell customers the value of investing in your product or service over, say, a cheaper competitor
Teach customers how to save time or money using an insider industry secret
Share your employees best tips for managing their daily workload
To Advertise Company Culture
You might think company culture videos are only for larger corporations, but that's not true: today, even smaller businesses seek to attract top talent by releasing company culture videos.
Create a video highlighting the work-life balance of your employees. Show how you have dogs and snacks in your office, for example, or paid parental leave. Introduce your employees. Share their stories.
A good company culture video could be the difference between hiring top talent – or watching that talent go to your competitor.
To Thank Customers or Mark Milestones
Did your company just sell its 10,000th app? Did you just pass $1 million in sales? Did you just celebrate your fifth anniversary of doing business?
Whatever the occasion may be, you can celebrate it with an effective video. Take time to thank your long-time
customers for sticking around, for example. Spell out 'Thank You' using your products. Have your employees take the shape of letters to spell 'Thank You'.
Or, if celebrating a milestone, look back at how far your company has come over the years. Showcase a video of your company's office the first year in operation compared to today. Show customers how much your company has grown and changed.
Highlight how your customers, team members, vendors and others have contributed to your growth and success and make that the focus of the message.
Show your Production Process and Highlight the Value Put Into your Products
Sometimes, the best advertisement you can make for your company is a video showcasing your production process.
Customers might have no idea the amount of work you put into your products compared to, say, a cheaper competitor. After watching a video showcasing your production process, customers may be more willing to buy your product. They understand their money is being put towards real value behind your product.
It's easy for a baker, a restaurant, or a factory to showcase its production process. Create a video highlighting the creation environment. Show customers how employees work together to create the finished products that end up on store shelves.
However, even other companies can create production process videos. A web design company, for example, can create a video highlighting the different stages of production – including the graphic designer who creates a custom logo, the programmer who creates the code from scratch, and the marketer who performs A/B testing for the finished products.
Whatever your business may be, sharing your production process can highlight the value of your product or service.
Final Word
Need help putting together a video marketing strategy for your business or maybe just creating an introductory video highlighting your business's best qualities? Renew Marketing can help your business attract new customers using video content. Contact us today to get started.